As a business owner, ensuring the safe disposal of your industrial wood waste is vital. Not only is it for environmental protection and emission reduction, but it also contributes to resource conservation. Furthermore, it ensures a sustainable and eco-friendly approach to industrial processes, safeguarding both the environment and public health.
Essential Guidelines for Managing Wood Waste
If your company processes more than 1,000m3 of wood or wood-based products a year, you will need a permit for your wood machining process under guidance note PGN-602, which covers the extraction and storage of wood waste in the form of shavings and dust and the handling and disposal of off-cuts. You must also secure a permit from Environmental Health and comply with ATEX and DSEAR (Dangerous Substances and Explosive Atmospheres Regulations 2002).
Ranheat Engineering Ltd., a leading manufacturer of industrial wood-fired and biomass-fuelled boilers and heaters, also specialises in manufacturing and installing a wide range of silos and storage bunkers designed for industrial wood waste. We provide storage solutions to ensure the safe and efficient handling of wood waste.
Based on our experience, most systems involve a wood-burner. In certain situations, wood waste is conveyed into a trailer. But what happens when the trailer is taken away to be emptied? The solution is a buffer store in the form of a silo. This allows continuous factory production while the trailer is off-site for emptying.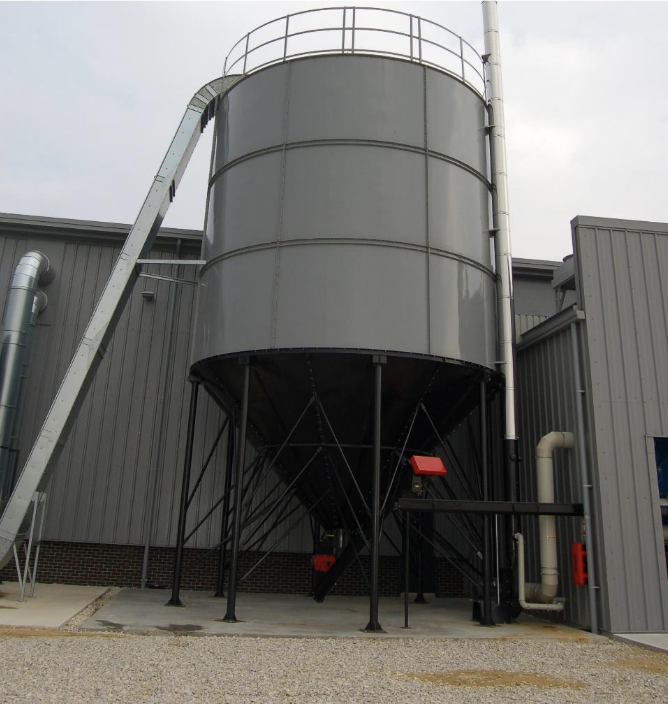 350m3 7-metre diameter storage silo
Conical-bottomed round storage silos efficiently use a single discharge motor that drives an agitator arm at the cone's base to ensure complete silo emptying. In contrast, some manufacturers offer square silos with round discharge mechanisms that may leave the silo never fully emptied.
Ranheat silos come equipped with certified explosion panels installed on the roof. We utilise a precise computer model to determine the necessary number of panels based on the storage volume. These panels are batch-accredited, with a percentage undergoing destruction testing for quality assurance.
Ranheat also manufactures a line of industrial wood waste storage silos designed for wood chips, which can be easily loaded using a bucket loader.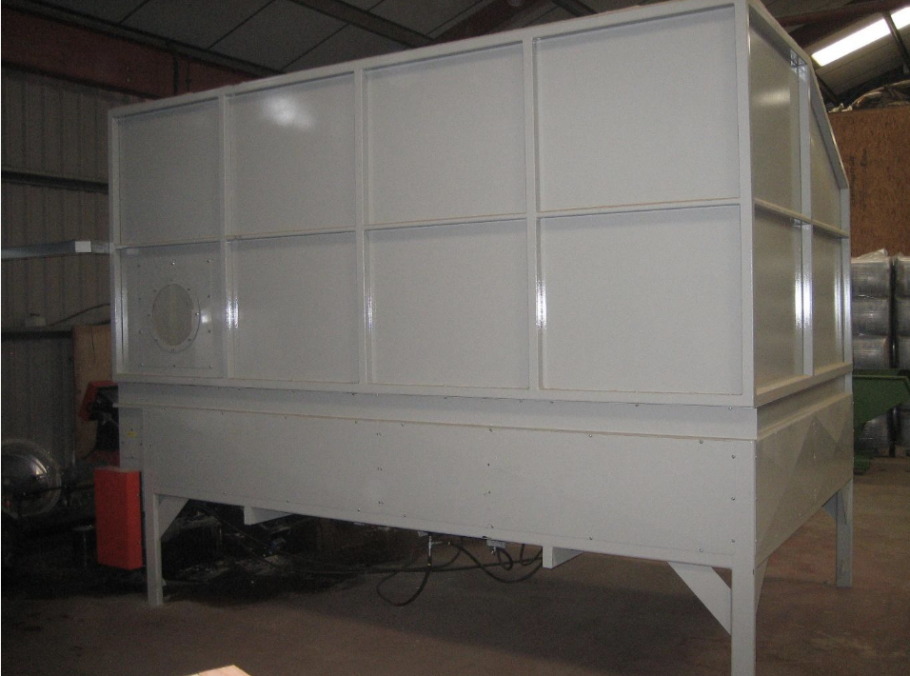 Rectangular Open top bunker silo mounted internally loaded with wood chips.
These "bunker" silos have a hydraulic scraper mechanism that moves across the bottom of the silo to a discharge point. They can also be used externally with a canvas top if loaded with a conveyor.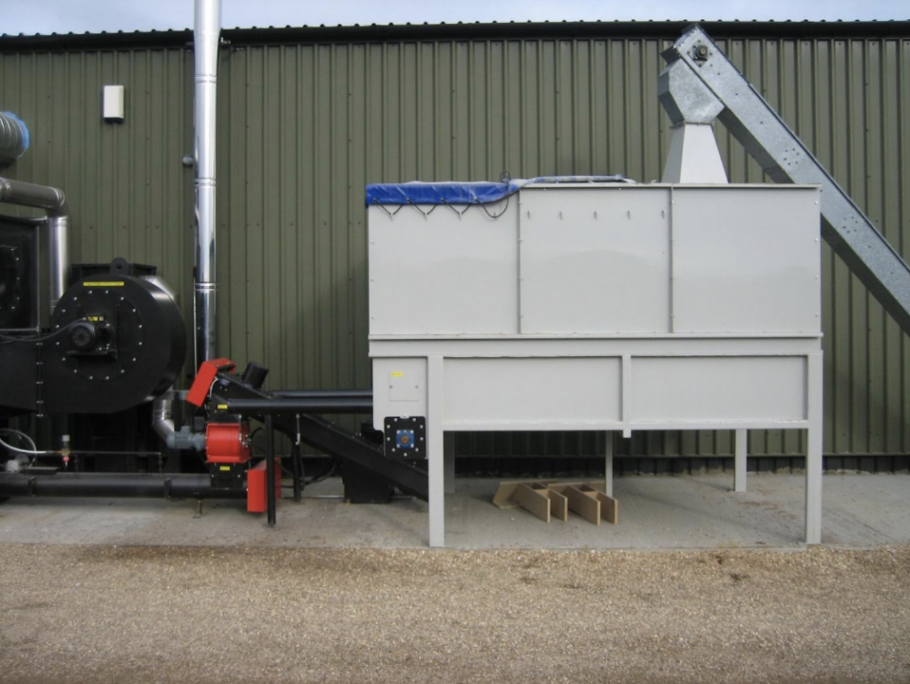 We also offer other discharge mechanisms for flat-bottom silos featuring a set of augers that transport materials to a central discharge point. The augers are driven by two small electric motors with chain drives between the augers, ensuring the silo is completely emptied.
Conclusion
Ensuring the safe disposal of industrial wood waste is not just a regulatory requirement but also a crucial step towards environmental protection, emission reduction, and resource conservation. A trusted industry leader, Ranheat not only excels in manufacturing industrial wood-fired and biomass boilers but also specialises in developing innovative storage solutions for wood waste. Whether through conical-bottomed round silos, explosion panel-equipped designs, or hydraulic scraper mechanisms, our commitment is to offer efficient and environmentally sound solutions to meet your wood waste management needs.
Get in touch with us, and we'll provide you with the expert assistance you require.